---
【University of Kochi】 Utilizing Academic Knowledge From Interdisciplinary Teams For Developing Collaboration Research In Disaster Risk Reduction (2017年9月27日)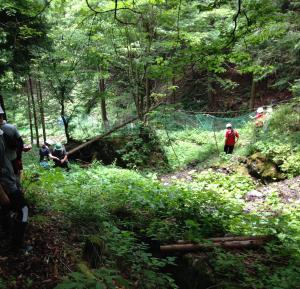 On September 27, 2017, a Disaster Nursing Global Leader (DNGL) student participated in the lecture and field observation about the implementation of science and technology for Satoyama in Kami City, Kochi, presented by Prof. Masataka Takagi. He is a professor at the School of Systems Engineering, Kochi University of Technology. Prof. Takagi and team are initiating a project to share data and further improve the efficiency of joint research by using the cloud infrastructure with a well-developed development environment including Geographic Information Systems (GIS) and remote sensing.

Learning from this lecture and field observation was concluded that the information technology provides capabilities that can help people grasp the dynamic realities of a disaster more clearly and help them formulate better decisions more quickly. The information technology has potential to improve how communities handle disasters. This was good opportunity to learn from interdisciplinary perspectives as DNGL student. In the disaster risk reduction context, the challenge of disaster management is reducing the harm disasters cause to society, economy, and the lives of individuals and communities. Public health care have been substantially transformed by information technology. Computer-driven information systems have changed how we organize health care, understand health needs, and deliver services. Hence, as disaster nursing global leader, we must consider to not only sharing of knowledge, but also team building by utilizing academic knowledge from other fields to develop research together. We should develop knowledge and collaborate with other experts to build disaster nursing science.
For instance, the information gathered may be mapped, together with information on hazards, to build up a picture of effects and vulnerability. Furthermore, the geographical information systems (GIS) are useful for spatial hazard analysis and mapping to match health needs among local community with public health services. This information technology system allows several types of information from various sources, such as the location of settlements and industrial hazards, the contact details for emergency staff, and short-range wind direction forecasts, to be combined and presented to give a complete and up-to-date picture of hazards, their possible effects and response protocols. In summary, GIS and remote sensing are the important ways in which to better illuminate how humans interact with their environment to create or deter health by applying information technology to disaster management.

–(Reported by Hastoro Dwinantoaji)-