---
【University of Kochi】World Society of Disaster Nursing, 2018(2018年10月17日-10月19日)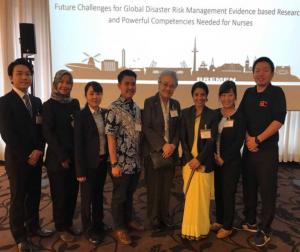 The 5th Research Conference of "World Society of Disaster Nursing" was hosted in Swissôtel Bremen, Germany from 17th to 19th October, 2018. The conference theme for the year was "Future Challenges for Global Disaster Risk Management – Evidence based Research and Powerful Competencies Needed for Nurses".

DNGL students from University of Kochi participated in the scientific oral presentations. The presented topics were "Nepal Flood Disaster 2017: A Report on Nursing Activities" by Sushila Paudel; "The Expectation of Survivors towards Disaster Nursing Practice in Indonesia: A Qualitative Study" by Yudi Ariesta Chandra; "Analysis on Experiences of DMAT Nurses´ Activities at Disaster Sites: Required Practical Skills" by Sasaki Kousuke; and "Role of disaster nursing at disaster volunteer centers" by Kazuyuki Sugimoto and Mami Nojima.

There were over 40 lectures, around 80 posters and 170 colleagues from 4 continents and 19 countries who contributed to the increase in knowledge and ideas of the challenges caused by disasters. Dr. Stefan Görres, the chairman of the conference, on his final speech, highlighted the necessity of more research on the topic of disasters, and utilizing the results to consolidate further competencies of health staff and nurses.

(by Sushila Paudel)