---
【University of Kochi】"Born from eruption" workshop: A report of participation on research workshop in IRIDeS, Tohoku University(2019年2月12日)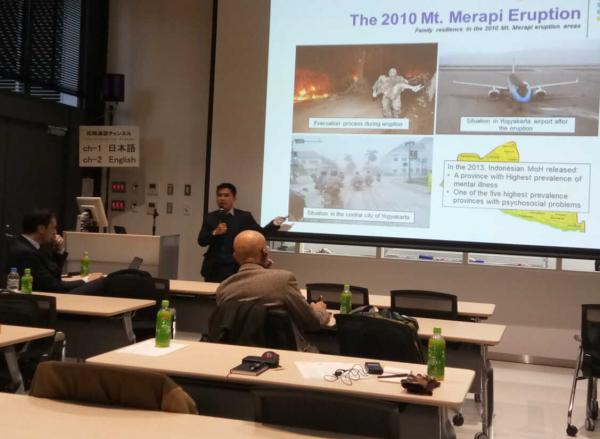 On February 12, 2019 a DNGL student of University of Kochi, Yudi Ariesta Chandra, presented the topic of Family resilience in the 2010 Mt. Merapi Eruption as an invited speaker in "Born from Disaster" interdisciplinary workshop that conducted by International Research Institute for Disaster Science (IRIDeS) Tohoku University. This workshop aimed to problematize the common assumption of the death, loss and reconstruction on the disaster by emphasizing the notion of rescue and important care in order to enhance public health and society recovery system.
Through his presentation, the student explained that since community resilience became the emerging issues on disaster risk reduction agenda, discussion of the resilience of family as sub-system of community, became a concern as well. Family resilience, itself, is an emerging concept in mental health and human services field. It is relevant in clinical/ community-based practice because, it guides health professional to provide intervention in enhancing vital family processes.
He further described that in order to develop appropriate intervention to strengthen family resilience in disaster-prone areas, understanding family resilience factors was crucial. He argued that based on the findings of his study, life difficulties, mental and behavior consequences, and family capacities have determined the resilience process of the affected family during the disaster.
The others speakers also have been presenting their topics. The topic of corpses, soul/ spirit, mind/ person, and material remains were presented and discussed in the workshop. From the workshop, it was concluded that culture value and spirituality played as a key role in managing disaster situation to restore and strengthen public health and social recovery system in the disaster.